FREEDOM OF SENSES IN WIENER STAATSOPER'S "LA BOHEME"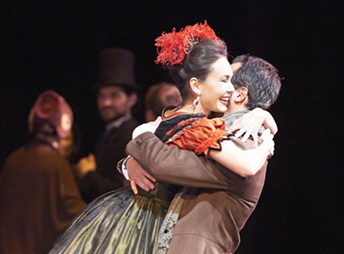 "Feeling and touching time-proved Franco Zeffirelli's La Boheme was staged in Wiener Staatsoper. Reliable Marco Armiliato is on the stage, Aida Garifullina outstandingly play Musetta, alongside with the fascinating couple – admirable Piero Pretti as Rodolfo and Marita Solberg as heart-piercing Mimi. The performance was full of tragedy that engulfed that very Paris that forms a vivid frame of Puccini's drama.
No doubts that Aida Garifullina's Musetta is the best here, and she exactly complies with the name Marcel gave her in the heat of passion: Temptation. Russian soprano shows great individuality in both vocal and performance sides – she may be cowcattish and impudent, but also sentimental and caring when needed. Her singing is warm and tender, she perfectly controls her breathing, she has wonderful homogeneity of registers and phrasing ingenuity. The variety of colours and contrasts is also brilliant. As the curtain fell, a storm of applause were paid to everybody and, especially, to Aida Garifullina", wrote Andrea R. G. Pedrotti in the Italian musical magazine L'ape musicale.
"Aida Garifullina's Musetta leaves other performers behind. When she appears, it seems that a great hurricane comes over the stage; her voice is magnificent, from first notes to the last short sincere pray in the end",  shared her impressions Elena Habermann in Online Merker.